Event Update No. 2021-1: Intent-to-Race / Registration Updates / Spring Webinar Series / COVID
Intent-to-Race
Teams planning to take part in the 2021 Solar Car Challenge need to file a 2021 Intent-to-Race Form. This does not obligate you to race this summer, but it does place you on the official mailing list to receive important communications.
Registration Updates
All teams need to submit an Official 2021 Registration Document by April 30, 2021. This will insure the information in the Official Race Booklet is correct. You do not need to resend the supporting documentation unless something has changed from your original registration packet.
Spring Webinar Series
The Solar Car Challenge Foundation will be launching the Spring Webinar Series on Saturday, January 16th. A copy of this outstanding program is attached to this email.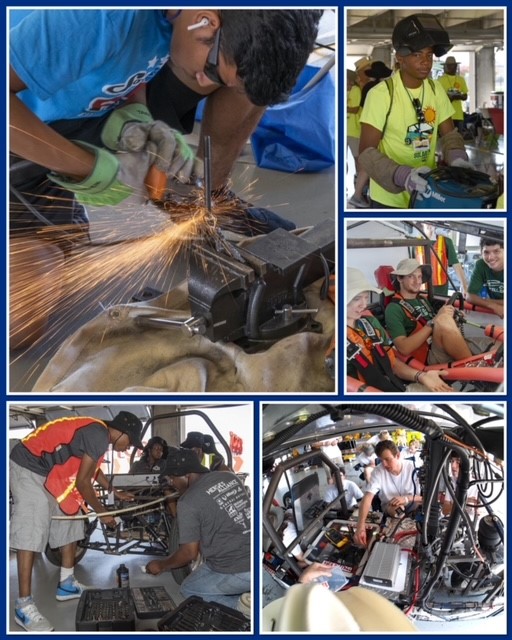 Race Photos from Previous Solar Car Challenges
Preliminary Planning for COVID-19
The Solar Car Challenge is working on a COVID-19 strategy to help keep students, teachers, and staff safe during the 2021 Solar Car Challenge. Early consideration includes:
Pre-Race Health Forms submitted prior to arriving at Race (Mayo Clinic Protocol)
Daily Health Screening of everyone entering the TMS infield.
Exclusion of Visitors and Guests from the infield
Requirement for wearing a masks (similar to requirement for wearing a hat)
Broad availability of hand-washing and sanitizing stations
Availability of quick COVID testing
Garage arrangements to maximize healthy distancing
No community food service except for Banquets
Persons testing positive cannot be quarantined in the event hotel
The required Team Oral Presentation must be submitted by video to Race Staff prior to arriving at the Race. [More details to follow]
COVID-19 Planning will be finalized later this Spring.
---
Attachment:
Spring Webinar Schedule.docx